UVI is very pleased to present Darklight IIx, a brand-new UVI instrument
inspired by one of the most mythical Computer Music Instrument of the 80′s.
Costing upwards of $100 000, the desirable dream machine of the 80′s was unattainable by most.
Used by countless prominent artists, including Peter Gabriel, David Bowie, Michael Jackson, Kate Bush, Herbie Hancock, Jean Michel Jarre, Thomas Dolby and many more, it remains a highly regarded and sought after instrument.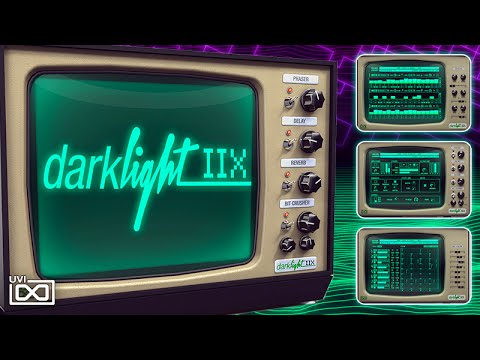 ► UVI Workstation 2.0.6 required

——————————————————————————————————————————————–



——————————————————————————————————————————————–

Overview


We took our obsession to the next level, creating a complete set of instruments, sounds and sonic tools deeply inspired by the original digital monster. A unique, hybrid process of exhaustive multi-sampling, analysis, and advanced scripts for audio processing allowed us to not only capture the original character of this machine but to enhance its ability with a host of today's most powerful analog modeled filters, LFOs, envelopes and effects–packaged beautifully in an old-school interface.
Darklight IIx offers several "Pages", each an instrument on its own.

▶ Page P - "Organic" Digital Sound
▶ Page B - Digital Drum Machine
▶ Page U - Creative Multi-Phraser

All of these combine to present you with the soul of this mythical machine, packaged in an easy-to-use interface with modern controls for enhanced expression and musicality.

——————————————————————————————————————————————–

"Pages"
PAGE P
• "Organic" Digital Sounds •
• Immediate access to hundreds of sounds and instruments including: Bass, Brass, Bells, Strings, Guitar, Orchestral Hits, Synth, Drums, Percussion, FX, Keys, Piano, Organs, Winds, Reeds and Voices.
• Efficient and versatile control set allows for everything from quick tweaks to deep sonic exploration.
• Accurate reproduction of aliasing characteristics.
• More than 250 ready-to-play presets.
• A multitude of effects, including the new UVI SparkVerb™, allow you to create sounds like the original machine and process them to sound like your favorite cult records from the 80′s or something totally new!
PAGE B
• Digital Drum Machine •
• 80′s-style beatbox with step sequencer
• Hundreds of authentic vintage drums and percussion sounds
PAGE U
• Creative Multi-Phraser •

• UVI exclusive multi-phraser; 3 parts with 3 sounds and 3 smart step sequencers
• Create 3-track arrangements or moving drones, let your imagination run!


——————————————————————————————————————————————–

Compatible with all sequencers


With the free UVI Workstation 2.0.6 (required version), UVI Darklight IIx can work:
• as a stand-alone instrument, compatible with Mac & PC
• as a VST, AudioUnit, RTAS and MAS plug-in. iLok required.



With MachFive 3 – make the most of all editing features included!


——————————————————————————————————————————————–

Available now • $199 •

——————————————————————————————————————————————–


*Fairlight®, Fairlight Instruments are trademarks of their respective owners and are not affiliated, endorsed, connected or sponsored in any way to this website or any of our affiliate sites ; therefore do not be confused between UVI and Fairllight®.

**None of the video examples, songs, and/or pictures, product name are affiliated, endorsed, or sponsored by Fairlight Instruments Pty Ltd or the owner of the trademark Fairlight®. UVI is not affiliated with, sponsored by, or endorsed by Fairlight, Fairlight Instruments or any of their affiliates or subsidiaries. 




⬆ top of the page